Qui est Pressyes ? Annoncés parmi les 15 premiers noms des Transmusicales, on sentait déjà quelque chose d'indéfinissable et solaire dans la musique du viennois René Mühlberger, aka Pressyes . Jean Louis Brossard nous a confirmé que le groupe faisait partie de ses plus grandes attentes. Nous avons suivi notre intuition initiale pour aller interviewer Pressyes , en groupe avec Marlene Lacherstorfer, et vous faire découvrir une des plus belles découvertes de cette édition des Transmusicales.
Le concert de Pressyes le soir même est en vidéo ci-dessous, et le report ici.
Where do you come from in Austria ?
René: From Styer, in the northern part of the country.
Marlene : But we live in Vienna.
When did your project, Pressyes , started?
René: The project Pressyes is my solo album. Marlene is also in the band, she plays the bass and keyboards. Marlene and me we played together for a long time in another band, which broke up, and then I started to do my own project. I didn't wanted to play live. Just do music, write songs on tapes, like a diary.
What is the origin of Pressyes ?
René: I did record at home with my synthesizors and guitars, and I was collecting a lot of new stuff because I had a lot of time. Three years passed, and friends told me "your songs are so good, you have to release them!" And I was like: "I can't do it, because I have no band, and I don't wanna play that much concerts again." But we started doing it, and yeah, now I love it again!
Marlene: I think he is more about being in the studios, finding sounds. And being on the road always keeps you away from that. It's such a different lifestyle that drives you away from the studio and being creative, because you always reproduce things you already did two years ago. But it's also fun, to a certain extent, if it's not too much.
The thema of the evasion, and escape, come often in the titles and the lyrics of Pressyes . Where dos this come from? Escaping in the studio?
René: Yes, it's partly that, because we've been on the road a lot, with different projects. But I love being in a small flat, being on a nice carpet, sitting down there, playing a drum, or a guitar, just wasting time. It was really like running away from the outside world.
On the other side, Marlene and me made a lot of road trips together, we were backpacking through Asia, a little bit. In Sri Lanka, Vietnam, in Morocco… We had a lot of time, and saw a lot of new things. And every time I came back home, I was so inspired, and I wanted to turn those things into music. For example the congos on On the run are inspired from the street music in Morocco. Actually it's this small maroccanian drum, which sounds really crappy, but with a microphone and the space they could sound huge.
Did you played instruments there?
René: No, mostly we bring it home.
Malena: We try it a little bit. Mostly we collect sounds, musical ideas, and then it's turned into things, recorded at home.
It's very interesting the fact you said you have a lot of time. It's not something we ear often in our societies. Is it a spirit you want to transmit through your music?
René : Yes, I constantly keep fighting this modern world (laughs). Trying not to overuse the computer, that's also why I record on tape. It's very time consuming, but it's much better for the ear, and for the brain.
Marlene: Something to touch, something real.
René: Yeah, I think it's very important to have some wasting time, and to act like a child. I felt like this child being in his child room, playing with his toys. It wasn't cars, but synthesizors, guitars, tape machines. I think it's important to play.
Talking about playing, we feel in your tracks that your sounds have been tritured in many ways, as if you were playing with buttons and knobs. It gives very electrical sonorities, like on On the run, which brings their psychedelic aspect to the tracks. How do you reach these kind of sounds?
René: My approach was to start with a very vintage theme on tapes, like drums and bass, recorded on tapes. And then, at some point, I ended putting it in the computer. I had no experience of using the computer programs, so I overcompressed a lot the sounds. Then I bought two compressors, which make it very electronic sounding.
I can spend really days on a snare drum to get the feeling that it's very direct hitting.  I didn't want to make these 60's, 70's vintage records that a lot of bands do. I wanted to have that very direct sound, because I also listen to a lot of hip hop music, and that's why it took so long to mix it. But I love that you ear it.
And also on stage, with all the sounds we ear in the tracks?
René: On stage, yes, we ended up on a technical mess, of course. Because I play now the guitar, and I sing, and I play some MIDI synthesizer trhough the guitar at the same time. And I have to hit ten paddles before the next sound can start. Now, we have most of the keyboards sounds on a backing track. And we do it as a three piece band. We keep it small, for now.
Do you write your lyrics and music solo or together?
René: Just me for this first album. But it turns more into a common creation.
You talked about hip hop. It's interesting because your album is very pop, rock and psychedelic, and in the sound We'll come back, there is something more rap and hip hop. How did you wrote this song?
René: I also like this thing a little bit more. Because the thing I did for a long time was more like normal pop indie music. So I'm very intrigued by rap and hip hop music. I think hip hop is the only indie music that lefts. I think the most interesting movement now come from the rap thing at the moment. I really love Kendrick Lamar.
There are so many rap musicians doing new stuff. For me, that's the most important thing about music. For me it was also to find a new sound of my voice, being more open and honest with singing, not just having a nice melody, which you can get bored of really soon. That's more the direction I will go in the future.
Would you like to create a new song featuring a rapper?
René: Maybe, yes. That's all in my head. One of the best voices now might be Anderson. Paak, a westcoast rapper. Sometimes, when I make a song and have no lyrics yet, I think that wow, he could sing on that track, then it would be a hit! If I sing on it, it's another pop song, but he has the voice to cut those edges. I would ask him.
It's funny because a friend of ours wrote to Anderson. Paak when he played in Vienna, that he could come to his studio for free, if he has time and wanted to record. And he did that! He recorded three songs in two hours. So, he could have rapped on my own track.
You should do that!
About your clips, there are many differences, for example between On the run and Summertime. You wanted to create a universe dedicated to each song?
René: Marlene and me did the videos all by ourselves. For the On the run video, I just bought a camera and started shooting the next day, because we were on vacation on Crete island. We had no plan at all.
Marlene: And we never done it before. It was the first time I was in front of the camera. We were experimenting, basically. For the second one, on Hideaway, we did that in India, so this has a different flavor, but we didn't had a script in advance. Our approach is more to find something, and to get inspired on the trip, on the road.
And the snake (appearing in On the run clip, n.d.l.r)? (laughs)
René: There was a woman, on Crete island, holding these giant boa constrictor, for tourists. We asked if we could film it. Marlene took it pretty cool, she was nervous and the snake starting to lick her neck. So yeah, it's mostly on vacation that you find something interesting or maybe you have your eyes opened more than at home.
Did you rent a car?
René : Sometimes. But the ones in the clips are abandonned cars. There are a lot in Crete island. You can just film them. So we painted it, and hoped the police wouldn't come to stop us! But we are lucky. In some places, it's pretty hard to film if you don't have a licence. I've heard that in California you have to pay for anything you want to shoot.
Marlene: That's why we go to India, or to Crete!
Do you prepare something for the concert tonight?
René: I think it will be a surprise enough if every thing works! laughs)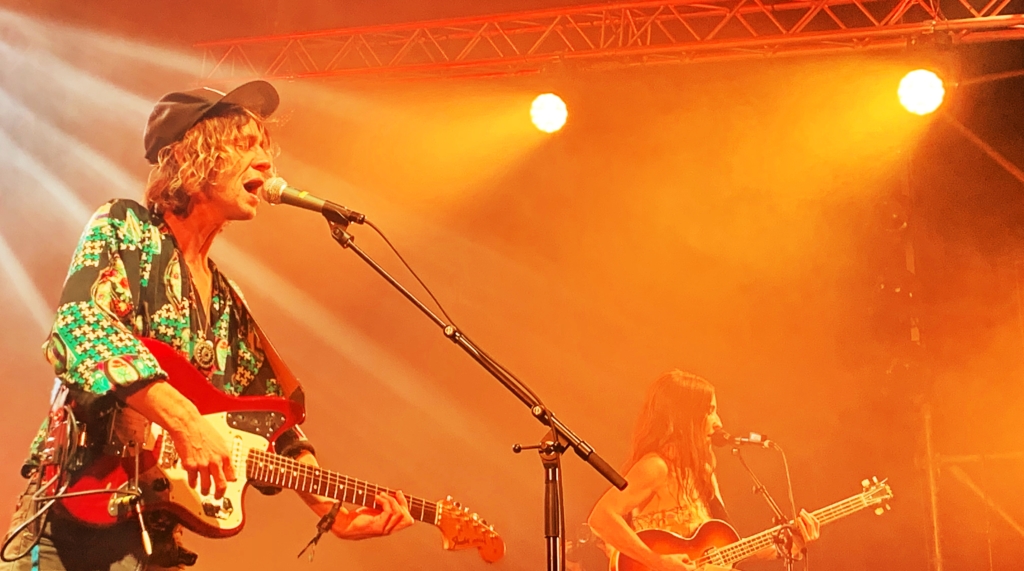 What do you expect from the Transmusicales, and after the festival?
René: We have this guy called Romain, which is our booker now here. He contacted us thgrough bandcamp…
Marlene: Soundcloud.
René: Soundcloud! Wow, pretty fancy ! (laughs) So all comes down to his plans. Because we obviously love travelling and being in France. We already fell in love with the country. I'm a huge lover of french music since 20 years!
Who are the French artists you listen to now?
René: I listen a lot to Moodoïd. I love the new Melody's echo chamber record. We listen to it on the roadtrips in a Volkswagen bus all the time (laughs). Also, there is the old stuff, like Air. I always use it for setting up the speakers, because it sounds so good.I always have to listen to Air to get the snare drum straight on my record (laughs).
Marlene: And of course Altin Gün !
Plus the future Pressyes title featuring with Anderson. Paak, what are your future plans? Songs? Or new travels?
René: We're going to Marrakech in December; there is a lot to film there! After that we do another roadtrip next year, and I hop I'll have a lot of new songs by the band, so I could record some street noises. So the next one will be more of not so many pop songs in raw, but more like a mixtape, I think yet. More not so "verse-chorus-verse-chorus". I hope I can spread it up to more open feelings.
Marlene: We also have a tour coming up in Germany, Austria, Switzerland, and hopefully France!
You can roadtrip and do the tour too! And film during it. You could also film today, the fair and the rollercoaster outside are very photogenic!
René: Yeah! But unfortunately I didn't bring my camera this time.
Which artists of these Transmusicales would you like to listen, see, and recommend?
René: Tonight, Komodo, they play in the same hall than us, hall 3. I really like their style. One guy is playing this… I don't know what it is. Kind of indian instrument, another sitar. So I have to see that, because I'm also thinking about buying electric sitar. We are not staying so long that we could see Arp Frique, but I love these a lot. It's very exotical sounding, which I love the most. I also want to go more in that direction. I just started and it seems that there a lot of crown up musicians here who do that since a long time. It's a pretty amazing line up. The best I've ever seen !
You can say it to Jean Louis Brossard, the programmer ! We made an interview with him, and you are in the top 10 of the artists he would recommend this year.
René: Ok, cool, that's an honor! Don't put so much pressure on me! (laughs)
On retrouvera Pressyes dans de nombreuses dates en Allemagne et en Autriche. Dates en France annoncées prochainement!