Il y avait beaucoup, beaucoup de monde pour découvrir les boys irlandais de Fontaines D.C. le lundi 22 Avril au Point Éphémère. Si on avait rarement vu un groupe autant retourner le lieu, la première partie, Just Mustard , nous a complètement chamboulés. Ce qui rejoignait notre intuition de la présence d'un je-ne-sais-quoi poétique et mystérieux contenu dans les morceaux studio du groupe. Rencontre avec David Noonan et Mete Kalyon, les guitaristes, pour mieux saisir ce qui fait la magie scénique de Just Mustard.
Côté son, le groupe oscille entre shoegaze, noise, psyché et trip hop, sans pouvoir être rangé dans une de ces cases. Pour se donner une meilleure idée, on pourrait les situer entre Suuns, Massive Attack, et Slowdive. Une esthétique sonore (et visuelle) qui peut sembler plutôt obscure au premier abord, mais il suffit d'en voir la transposition scénique qu'en fait Just Mustard pour être happé et conquis par leur univers.
Des vagues puissantes de basses/batterie saccadées avec une précision machinique portent des nappes de guitare qui emplissent l'espace pour venir toucher quelque chose de très profond dans l'esprit. La présence scénique de la chanteuse Katie Ball, indifférente à l'agitation environnante et déployant une voix hypnotique et cristalline, coupe le souffle et emplit de frissons. Les paroles sont simples, tranchantes, et parlent tant de rêves qu'à nos rêves. Leur présence en première partie de The Cure début Juin à Dublin nous apparaît alors d'une évidence naturelle.
Le vent d'Irlande soufflera à nouveau sur Paris le 6 Juillet prochain, quand Just Mustard hypnotisera le Supersonic. Immanquable.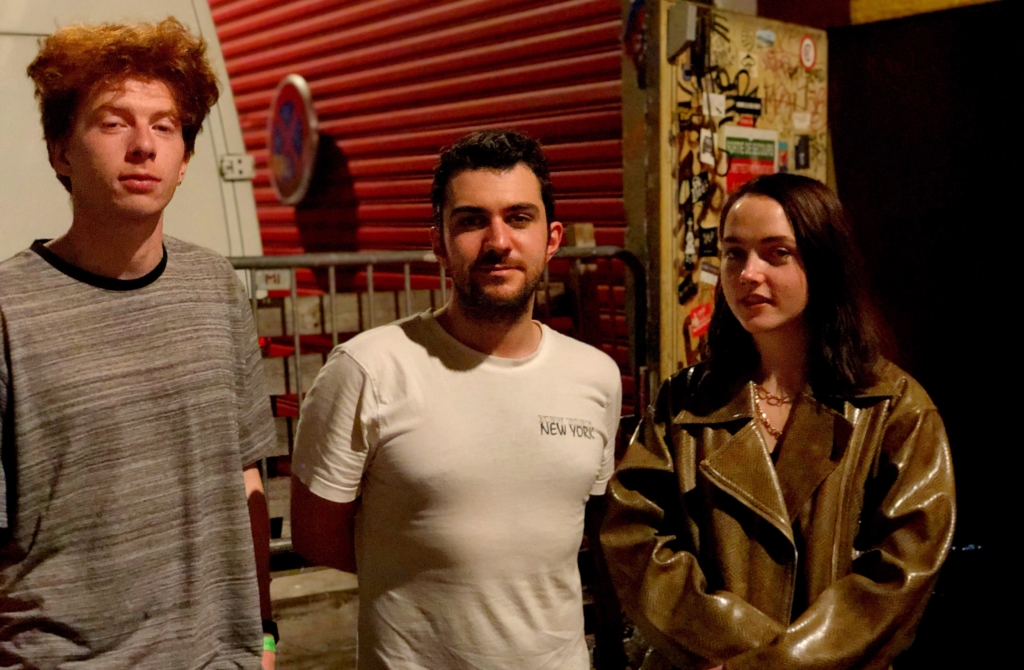 De gauche à droite: David Noonan (guitare), Mete Kalyon (guitare), Katie Ball (chant). Rob Clarke (Basse) et shane Maguire, dit Mags (Batterie) sont ailleurs dans le Point Éphémère au moment de la photo. – photo Mickaël Burlot
Hello guys. How do you feel for your first gig out of Ireland or UK?
David: We were excited to come over. It's been really nice to support the guys! (Fontaines DC, ndlr)
Mete: It's been probably the best energy in the room ever. Or probably equal to Glasgow. Every one has just great feedbacks!
David: And it was very warm on stage! We're not used to! (Laughs)
Do you have other gigs to come outside Ireland?
David: We've got something in Amsterdam in the summer, and a few festivals and things…
Mete: And July 6th, we'll be back in Paris (au Supersonic, ndlr). In any way, we definitely looking forward to play more in other countries.
How did you met, and how did you started Just Mustard ?
Mete: We all grew up in the same town, Dundalk, when we were teenagers. I went to school with Rob, the bass player. Nearly was another school, where were Mags (le batteur, ndlr) and Katie (la chanteuse, ndlr). It's only in the last three years, I move back to Dundalk, Katie and Rob were writing songs together, and they asked me to join, and Mags came later. So we all knew each others. Dundalk is a small town.
David: It's a small place, but there are a lot of musicians. There is one really good music venue which is called The Spirit Store. Creative people get into music in there.
Then, did you joined the Dublin scene?
David: We played a lot of shows in Dublin, also in Cork and Limerick. But the whole country is so small so it's all the same scene, very intimate.
What are your favorite festivals in Ireland?
David: There is one called Knockanstockan (lien ici), with an Irish Lineup. Every Irish band kind of get to play there!
Just Mustard sur la scène du Point Ephémère – photo Mickaël Burlot
Who composes the music and the lyrics in the band now?
David: It's very collaborative. Every one writes and has ideas for everything. Every one is chipping in each other ideas. And Katie writes the lyrics, it's her primary thing. She also comes with a bass line sometimes. Most commonly, what comes first in our composition, it's a bass line and a drum beat. We try to form a simple thing with all the instruments, and then we develop and develop. Usually it's quite fast. If it's taking a long time, it's usually not good.
Mete: Yes, we produce together a guideline. If after 48 hours, if it's not becoming something, it's usually chopped off. There are the hot times where a vocal melody we really like just keeps coming back, and then we find something that can fit into the rest of the song.
This bass/drum basis was very strong on the two last songs you played tonight. We really felt it.
There are a lot of bands we think about when we hear your music, but not to a defined style in particular. How would you describe your music? Its main aesthetics?
Mete: We're all into trip hop, that's why we like this deep drum/beats basis. I grew up with noisy influences.
David: Electronic music as well. Aphex Twin, for example, we like it a lot. I suppose we just try to make a release as simple as we can. A simple pattern of ideas that we can follow as the song is on. Really simple and just direct.
Mete: For me it was a great transition when we went into a "Less is more" process and just holded it. We find it, and keep it simple.
How was born Frank, your second clip? What was the idea?
David: We like the idea of the visual being married to the music. So the stop motion effect is very linked with the kind of broken drum beat. We really tried to synchronize it. The song and the lyrics are mostly about Katie's dreams. The imagery is emphasizing the music. For this clip and the Tainted one, we collaborated with an Irish filmmaker. We working on a new clip which will probably come out at the end of May.
You play a lot with Fontaines D.C. or the Murder Capital. Are there other bands you would like to play with?
David:  There is an Irish band I would love to, called Robocobra Quartet. Mix of Jazz and Punk/Noise band. Actually, two of them are French!
Mete: Deerhunter would be amazing.
David: Suuns, also. I guess we would like to go more in that direction. And more into electronic music.
About your concert with The Cure, did you created something special?
David: Hopely we can repress our vinyl, so we can sell it!
Will you try to make your hair look like Robert Smith's one? David could try!
David: It's three months away, so why not! For the concert, it's really crazy, very surreal, we don't really know what to do about that.
Mete: Yes, pretty crazy! There is no special preparation. I guess we will play as best as we can.
From what we heard today, being honest, Just Mustard playing before The Cure is totally coherent.
Last year, you've been nominated for the best Irish album of the year. Did it change something for you?
Mete: Yes, a lot of attention came onto the band. It's something you don't even imagine that could happen. Definitely positive for the band. This attention and people asking us to do more gigs.
Mete: Yes, we had so much fun in Brighton this week!
David: Excited, yes! One of the shows will be at The Haunt stage.
What are you plans for the future?
David: Just write. We're gonna write an album. Especially after the tour, this week, we'll just go home and write a lot of songs. We have another tour in England and Scotland in May, then we have some festivals in Ireland and UK in the summer. And our Parisian concert in July.
Last question: are you fans of Mustard sauce?
Mete: Ahah! We have to say that the sauce is not related with the name of the band. But actually I do eat a lot of mustard! I even take it with aspirine sometimes!
Thanks guys!