Dans notre Top 10 des Trans Musicales, et électrons libres de la scène londonienne, Los Bitchos connaissent sur le bout des doigts les recettes des cocktails qui font vibrer! Des bonnes doses de cumbia, frappées aux riffs sixties et shakées avec une énergie sauvage sur scène. Et une bouteille de Tequila… ou plusieurs, du moment que le fun est au rendez-vous! 
Une Tequila qui a bien tourné pendant leur interview aux Trans Musicales, pendant laquelle les cinq Uruguyano-Australiano-Suèdo-Anglaises nous ont parlé de leur rencontre avec Alex Kapranos (leader de Franz Ferdinand), de leurs potes Bodega, des Shadows, de leurs influences Cumbia et Punk, le tout sur fond de bruits de dauphins déglingués!
Une interview menée conjointement avec la RTBF, à lire en anglais dans le texte.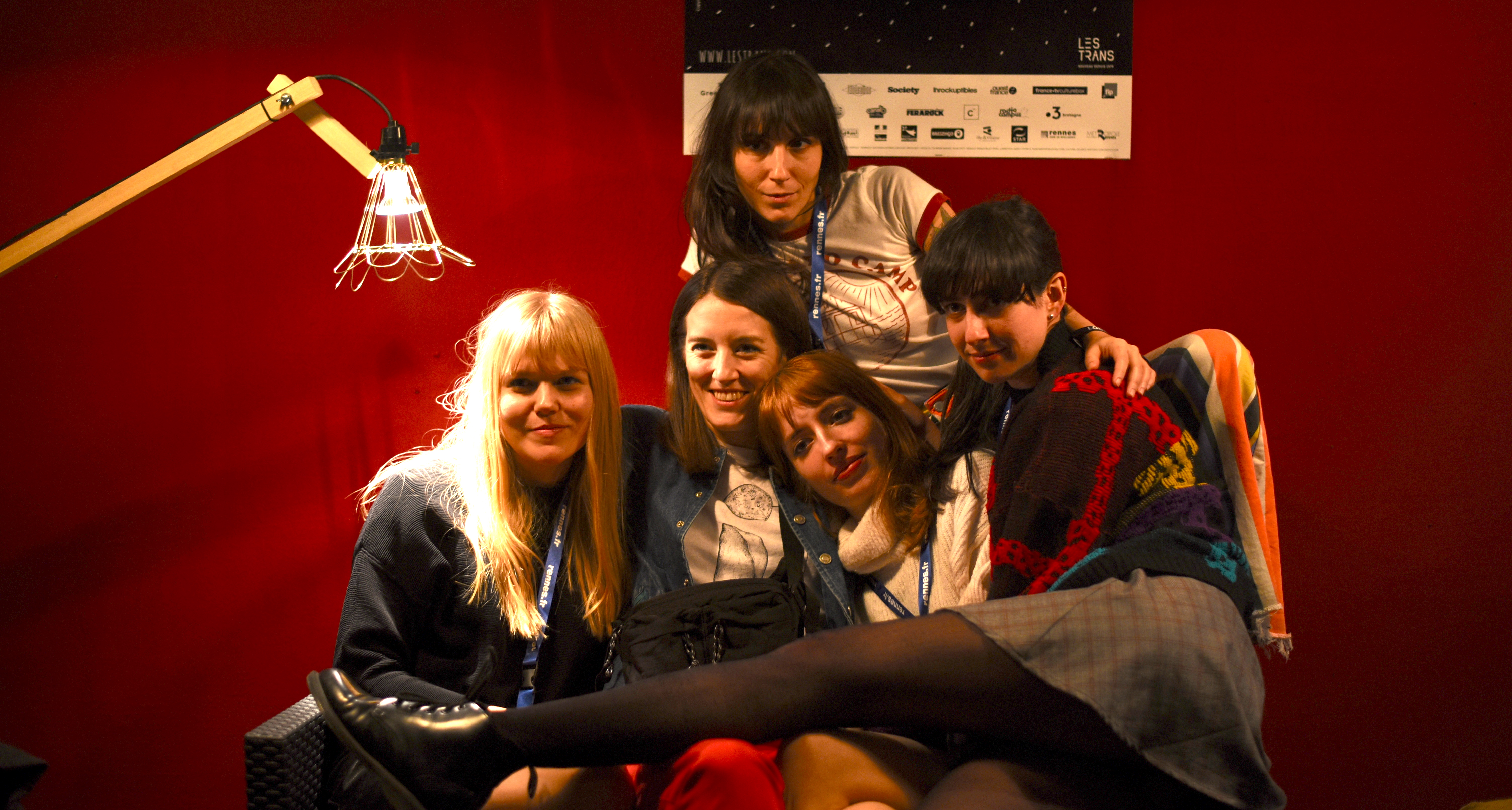 Los Bitchos, from left to right: Josefine Jonsonn (Bass), Nic Crawshaw (Drums), Carolina Faruolo – above (Guitar), Augustina Ruiz (Keytar),  Serra Pettale (Guitar). ©Listen Up – Mickaël Burlot
How did you met and decided to start the band?
Serra: I met Carolina, she came on tour with my old band. We felt in love on tour, it was beautiful. A few months later, she sent me this fabulous compilation of carribean cumbia called 'Chicha' (Check it out!). We just decided to have a little bit of fun, and made a track together, called 'Frozen Margarita'. A few months later, Carolina contacted me and just said she had a friend, Augustina, she was really fan and wanted to join the band. She didn't really play an instrument, so we just said to teach her keytar, because that's a really central thing in cumbia, super super cumbia.
We played our first show with the help of some friends. Nic and Josefine were in a band on that stage. Things really came together about maybe two years ago, when they joined us. I've known Josefine for ages. She drew into a friend and then we put a call out on Facebook for a fabulous drummer, and then Nic came into our lives!
Josefine: Yeeah!
Nic: A couple of mutual friends put us in touch. That was lovely! Thanks to them!
What was the name of your band before Los Bitchos?
Sarah: It was called Kid wave. She's the one of Josefine's best friend. The band was also based in London.
You said  before the compilation'Chicha' was the starting point of the band. What is your favorite flavour of chicha?
Serra: I never tried it!
Augustina: Chocolate!
Josefine: We should try all the flavours!
Serra: All of them!
Carolina: I guess I tried it with a cocktail in it.
Nic: We're more margarita/tequila vibes!
Another point of common? Mezcal?
Josefine: Mezcal yes, nice!
Augustine: Tequila is the one to go for us.
What do you drink?
Nic: Festivities!
(At that point, Carolina gives us her glass of tequila to share… Wow, strong one but super good one! Now we get into Los Bitchos spirit! E.d.)
You met Alex Kapranos. Can you tell us how it happened? And how he may helped the project to improve?
Nic: We played a show in London supporting friends from a band called Bodega, and Alex is a really good friend with them, so he was there at the show hanging out with them. When he catched us supporting them he said « Oh, wow! This band is really interesting! ». He came chatting with us and we kept in touch for a while. And we're neighbourgs, so we kept seeing him around. When we asked him to work with us he said « YES! ». So we said « GREAT! You're hired! »
He had so many great ideas. We started with the reproduction of our single 'Pista' straight away. He just went in the studios a few weeks after, and it happened super organically he just made the track sound really really really good! Everything he's done has been superproductive for us.
Serra: It's really great to have someone like him on board, offering an outside perspective of the band. And he has the nose  to feel what's gonna sound good. He always keeping it so fresh, and we've got a lot of the same productions interests and ideas. And he became a really good friend of everyone as well!
Did you know that Bodega played here last year? Did you have a great time with them?
Nic: I met them because they came when they played for the first time in London. They stayed in my house for three weeks, because my partner at the time was their promoter. We became best friends, you know how it happens when someone stays in your house for that long. Now we always hang out when they come around. All of them they are the best people ever.
Hi Bodega!
Two of them have this new band called 'The Wants'. Reeaally amazing. I'm sure they will be touring here next year as well.
What are your different influences?
Nic: Me and Josefine, we played before in punk bands. That kind of music we play now it's completely new to me. It's great, it's so different and so FUN!
Is there someone who composes more? How do you work on your music creation?
Serra: We just come up with a little riffs and put it down, see how that develops. It always end up changing a little bit somehow when you play on live, because everyone is gonna put their own touch, which makes the track really great. Especially with a bunch of punks in the band!
This style mixing your music with these sounds of the sixties, it reminds me of The Shadows. Did this idea came naturally?
Serra: When we first wrote 'Frozen Margarita', Carolina just sent me a little video with this idea, that riff of 'Frozen margarita' is really cumbia style. I would never had came up with that idea, cause I never listened to that kind of music growing up in Australia. It was really fun to take something like that and to put some sorts of rock codes behind it. Then to think about production that doesn't involve just a hi-hat or an heavy-snare, but to us a lot of tropical sounds. That was really different for me. A real turning point!
The single 'Pista' was the first one you recorded?
Carolina: It's the first one that we recorded with Alex. 'Frozen Margarita' was the B-Side of 'Pista'. It's the first one we wrote, so I love it.
There is a new one, 'The link is about to die', can you tell us a bit more about it?
Serra: That track was actually quite an old track that I had written six years ago, when I was attempting to sing. I'm not a very good lyricist. But we're just an instrumental band, which is really working for me.
About the track, I really really liked the melody and the production behind it. It was just a track that have been sitting on my computer, but I just always wanted to somehow rehash it and use it, cause I really believed in the melody.
Talking about your videos, there is a lot of fun inside it! How did you realized them?
Augustina (after a long throat clearing making everbody laugh) : I think it just tries to show what we are. Feels we are like that all the time, but we put it on the video.
Is it your production?
Augustina: Yes it's just us! Tom filmed it. A really good friend.
Carolina: Mama Tom! Very talented video-photographer! We love that man. He knows everyone and he's part of the family.
Do you use analogic camera?
Augustina: No, it's post-production. He's really good at that. And he's really good at capturing moments. He makes us feel confortable. So it was us being us. It's good to have him in the team as well.
You look like funny girls, what is your favorite joke?
Nic: It's so internal!
Serra: There is this really funny dolphin impression that Augustina does! That's been running for a while. Sorry, you just gonna have to do it!
Augustina: A-a-a-a-a-a-aah!!! (Now you just have to imagine a mix between a dolphin and a donkey kind of noise, with a mezcal and keytar filter! E.d.)
Serra: So good! We could play the audio on stage!
Josefine: We could put it on the website!
Serra (couldn't stop laughing): I'm gonna be buried with that! It's my burial! Oh, soorry, I digressed!
Josefine: We're all jokes!
Nic: We love to laugh!
Serra: even when it's not funny!
Usually, after the singles, come the album…
Serra: Yes! We've just been in pre-production to record it in January. and it will be out later, in the year.
Nic: Very excited about that!
Today is not your first gig in France, you already played in Point Ephemere in Paris. How do you feel the french audience?
All: YEEEAAAH!
Serra: It's been great in France!
Josefine: 10 out of 10! And all the day here in Rennes have been beautiful as well!
Do you have other gigs to come?
Serra: Next year, we believe.
Josefine: It's in the pipeline, but to early to say.
Serra: In Paris, all around, all the big cities!
Josefine: All the big ones!
What are your expects for tonight?
Carolina: Tequila!! (laughs)
Nic: It's funny to play past midnight, cause we never played at this time. But I think it's a good time
Serra: People will really be ON!
Augustina: I'm sure we will be ON!
Serra: Yeah, we'll have to be ON!
Josefine: We don't really know what to expect, we didn't even have the scene yet!
Serra: We have the backlines pretty soon, so I guess we'll have a little peak!
The girls were already ON sooner in the afrternoon playin' showcase for FIP!
How would you describe the band, on stage?
Serra: WILD! That's my word.
Nic: Does it have to be one word?
Serra: I just said one word cause it's all I have in me! (laughs)
Josefine: Fun!
Carolina: Sweaty
Augustina: A-a-a-a-a-a-aah!!! No, I don't know. Tequila! (laughs)
You can give your own word after watching the great Los Bitchos show a few hours later on Trans Musicales' stage!
How did you met Jean Louis Brossard?
All: At the great escape!
Josefine: He came once, and he came again to make sure! And he came to us and said « YEAH! I'm pretty excited to see us at Transmusicales! »
Serra: We're quite lucky as well, cause I remember I was on death toll. I was so hangover that day, it was b-a-a-ad. I don't know how I did that show, but it ended up great, everyone smashed us! And apprently the show we did before in the festival, on another stage, that was not good. I guess my pants physically was bad! But he really like us, so thank god for that!
Did you played in all the countries you come from?
All: Nooooo! We played in UK, quite a lot!
Do you have a plan for that?
Josefine: Next year for sure, we're going to States, we're thinking about dropping by South America. Australia is gonna be a bit more restraint, but it's in the cuts!
Serra: But we will do it!
Nic: And in Sweden, and France…
A Los Bitchos Tour with only your countries!
All: YEEAH!
Until then, Welcome in Rennes, and enjoy!
TEQUILA!